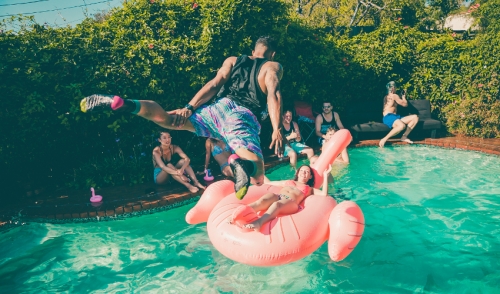 Every year people throw summer parties. Some parties are to celebrate graduations and other special occasions, while other summer parties are simply just because. Regardless of the occasion, anyone can make their summer party one to remember with the use of concession rentals. What's better than bringing the life of the party to your backyard with some of the most popular concessions? Give your guests the party of the summer by following some of the quick and easy tips in this article.
Concession rentals can bring out the fun factor in any party. They are enjoyed by people of all ages and are easy to set up and use. Concessions are also widely versatile and can always be considered a suitable option. I can tell you from experience that if there's a popcorn machine at any party, I'm definitely the first in line (sorry kids). Popcorn machines are a great rental choice, as the taste will without a doubt remind you of being at the movies or a carnival. The excellent flavor of buttery popcorn coupled with nostalgia provides an amazing experience. Since this party is taking place in the heat of summer, one great tip to spark your party is to rent a sno-cone or shaved ice machine. This is a guaranteed hit in the summer and the perfect way to cool your guests off on a hot day. If you're planning an evening with adults and having the food catered, try renting a hot dog stand for the kids. The food will appear more appetizing to the kids and parents will love the idea that their child is able to eat something they will enjoy. Don't forget to top it all off with dessert! The concessions available to rent for desserts are endless. Go with the classic cotton candy machine for kids to play with and even make their own. Don't hesitate to take it one step further to rent a large deep fryer and make your own funnel cakes, fried oreos, and other sweet and delicious treats. With the right preparation, you can feed your whole party on concessions alone and have your own little fair in the backyard. If you add a petting zoo and some live entertainment, you could have your own little circus for you and your guests to enjoy.
Concession rentals are an affordable option for turning any party into a good time. Be mindful the rates for each type of concession will vary and certain concessions come in different sizes and a variety of options. Call your local rental dealer today to get a jump-start on what's available and what options you can choose from for your summer party. Not only will you get some fun equipment at a great price, your rep will also provide you with extra tips and advice on how to make your event a huge success. The guests of your party will laugh, smile, and reminisce about the best event of the season.