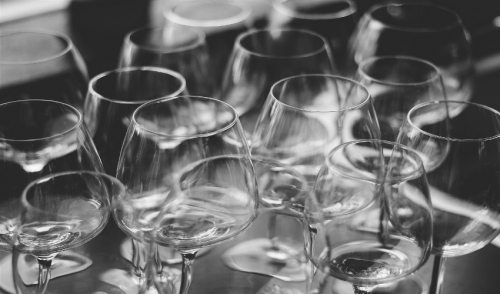 Glassware is always a big subject of discussion when it comes to planning big events. I've always been the type person to say that the right glassware is always the one in your hand. All jokes aside, there is a code to glass and stemware. Certain glasses serve different purposes and have the ability to have an impact on your big day for both you and your guests. Here's the thing: the right glassware is the one in your hand in the same way beer tastes delicious out of a plastic cup on a hot summer's day. However, when you put that beer in a nice mug or your wine in a well-designed glass with an elegant stem, your experience is heightened. The drink you are tasting becomes much more pleasant like drinking tea from a small fancy cup with your pinky in the air. You have the ability to offer this same feeling to your guests.
Selecting the right glassware has become simplified. Instead of purchasing a variety of options, you now have the option to rent everything you need for your big day saving you money and space. Have you ever been into a home that had too many cups? I have and it's not a good look especially when you consider how much space they take up and how little you even use the glassware. Keep in mind finding the right glassware for your big day is dependent on the type and style of your event. Therefore, have a plan and theme in mind before contacting your rental dealer. This will give everyone involved a better idea of what is needed and what is available to order. If it's a black tie event, you are going to need wine glasses, flutes for the champagne toast, water goblets, old fashion glasses for sodas and mixed drinks, and pint glasses for beer. If the event is less formal, then you can opt for a smaller selection of styles. You can rent a simple piece of stemware for wine and champagne, tumblers for mixed drinks, and mason jars for beer and water. If you fancy yourself a classy individual, then don't hesitate to inquire about other specialty glasses such as martini glasses, Moscow mule mugs, and snifters. All of these options may sound expensive, but are readily affordable through your local rental dealer.
Give your guests and yourself a quality experience on your big day by not only selecting the right glassware, but also renting it. It's easy on your pocket and satisfying to everyone who is enjoying a refreshment. Don't hold back and feel special with the right glassware in your hand on your big day.